Innovation for Scale
Upwardly Global expanded our training and technology partnerships to create new opportunities to reach more immigrant and refugee job seekers with international credentials. We broadened our work to build the capacity of workforce agencies, community colleges, and employers that support or hire immigrant and refugee professionals.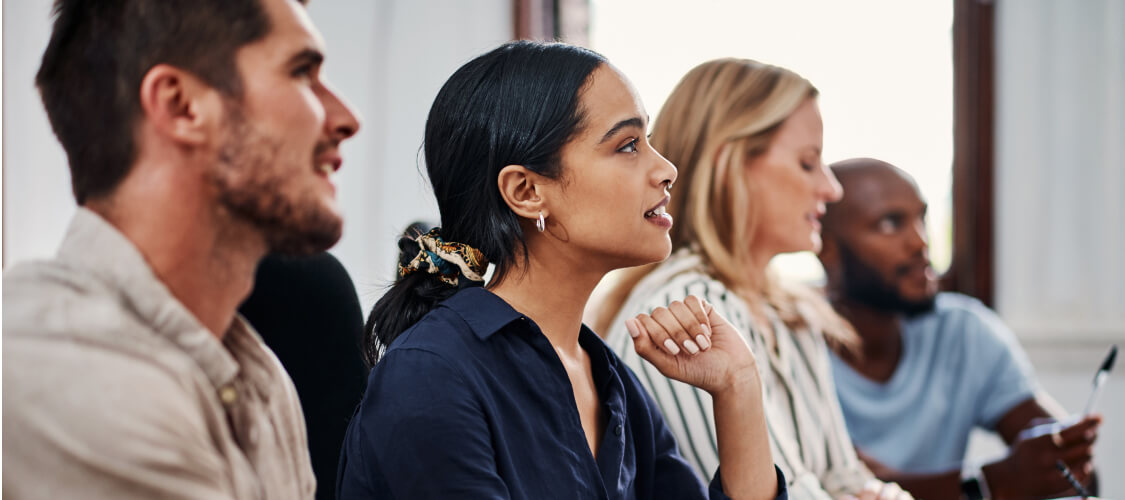 Partnering with State Agencies


In 2022, the New York State Office for New Americans renewed its work with Upwardly Global for an innovative statewide initiative to build professional pathways for immigrants and refugees and help fill over one million mid-skill jobs in the state.
Through this partnership, we are training workforce centers around the state to welcome hundreds of newcomers with international certifications and support them in securing U.S. jobs. This partnership is a model for other states. Upwardly Global also began a partnership with the California Department of Social Services to offer capacity-building support and technical assistance to the state's network of 23 refugee social-services organizations in order to better serve Afghan refugees. And in greater Houston, we are partnering with the U.S. Office of Refugee Resettlement to offer career services to Afghan refugees.
Embracing New Technologies
Upwardly Global implemented new technologies that will help us scale our work and remove barriers to workforce participation. We partnered with tech company FutureFit AI to create an artificial intelligence tool to help job seekers navigate their careers; this technology will be available in 2023 to job seekers.
AI tools used in hiring often exclude nontraditional candidates — for example, by sifting out resumes with foreign degrees. Upwardly Global and FutureFit AI seek to train an AI system that will reverse this trend. Job-seeker skills are assessed and matched with aligned openings based on real-time job market data.
Upwardly Global Learning
Throughout 2022, Upwardly Global continued to build our online-learning curriculum to include industry-specific materials and pre- and post assessments, and to improve its design and usability.
The tools are used by immigrant and refugee job seekers in Upwardly Global's Career Coaching Program and are also accessed by partner organizations via our portal.
In 2022, 15 organizational partners utilized our online-learning tools, along with immigrants and refugees who accessed them directly. We served more than 7,100 immigrant and refugee job seekers in total.
Employer Partnerships
Employers' willingness and ability to hire immigrant and refugee talent are critical for job-seeker success and are important drivers of inclusion in the U.S.
Upwardly Global's job-readiness program and inclusive hiring efforts have contributed an estimated $610 million annually in combined income from over 9,000 immigrants and refugees whom we have placed in thriving-wage careers over the span of our work.
In 2022, Upwardly Global worked with 300 companies to co-create solutions to better incorporate immigrant and refugee talent into our workforce. We released two toolkits on hiring best practices. We also began development of an employer portal that will consolidate resources for employers, along with hiring dashboards to streamline immigrant job-seeker hiring. We anticipate the portal's launch in 2023.